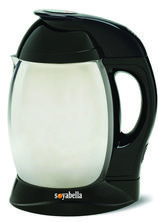 $109.95 (plus shipping)

Model SB-130
Soyabella Automatic Soymilk Maker
The Soyabella Soymilk Maker is the elegantly easy way to make fresh soymilk and a variety of other delicious recipes in your own kitchen. Simply add soybeans and water to the Soyabella Soymilk Maker and you get fresh soymilk in about 15 minutes
Details:
• Unlike other soymilk makers, Soyabella does not have an exposed heating coil, but instead features a safely hidden heating element inside its stainless steel boiling chamber. Soyabella's advanced safety features also prevent overflows, dry heating, and overheating for safe and reliable operation.
• Soyabella's sleek figure and contemporary design also look stunning in any kitchen. It is also compact and features a space-saving design so it doesn't waste valuable kitchen real estate.
Specifications:
11000 RPM Blade Speed
220 Watt Motor
750 Watt Rated Power Consumption
Capacity: 1.3 liters
Weight: 6 lbs.
2 Year Limited Warranty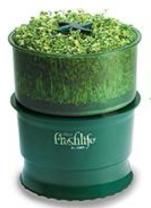 $159.95 (plus shipping)
Tribest Freshlife 3000 Automatic Sprouter
Model FL-3000-A
Grow your own sprouts right in your own home with the Tribest Freshlife 3000 Automatic Sprouter. Just plug the machine in, switch on, add seeds, and in 5 to 8 days you'll be enjoying your fresh organically grown sprouts, without the use of soil, chemicals, or special lighting.
Details:
The Tribest® Freshlife® 3000 has new features like adjustable water pressure and automatic watering system, that waters your sprouts for 5 minutes, rests for 25, then continues to water for 5 minutes, when the on/off switch is turned on. You can grow more sprouts with up to 3 levels of BPA-Free sprouting barrels. The Freshlife 3000 makes growing sprouts even easier. Features – BPA-Free barrels – Up to 3 levels of sprouting barrels – Automatic watering system – Adjustable water pressure system – Detachable power cord – On/off switch